FROM THE PRESIDENT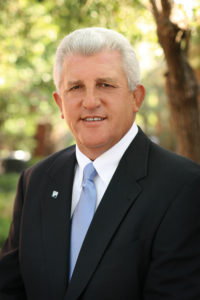 As we reflect on 2017, we're able to appreciate the opportunities presented by the current administration and proud to continue to serve the industry that builds America. The challenge of growing our workforce continues to keep recruitment and training at the forefront of our mission.
With the Trump administration executive order aimed at reforming America's education and workforce system and plans for reinforcing the infrastructure of America, there has never been a better time to continue educating and promoting the many opportunities in construction. In July 2017, NCCER executives visited with policy makers at the White House to continue sharing concerns facing the construction industry's workforce and how NCCER is helping overcome those challenges.
Part of NCCER's recruitment initiative, the Hard Hat Heroes credentialing portal celebrated its first-year anniversary on Veterans Day as a resounding success. During the year, a military advisory council comprised of veterans and industry representatives was created with the ultimate goal of recruiting veterans into the construction industry and ensuring they have opportunities for rewarding and sustainable careers. Most importantly, a total of 72 Air Force, Army, Marine Corps and Navy alignments were added to the portal. The hard work put into this effort did not go unrecognized — the Hard Hat Heroes credentialing portal won a prestigious 2017 Construction Users Roundtable (CURT) Workforce Development Award.
As technology continues to be a driver in training, NCCER focused on providing innovative benefits to our network by launching a progressive new testing system in 2017 as well as continuing to enhance the NCCER Registry. This new testing system allows instructors more time for hands-on training by greatly reducing the amount of time they spend on paperwork. It is being utilized by training centers, schools and entire districts due to the ease of use and overall efficiency it adds to programs.
Looking forward, NCCER is excited about future innovations from transforming our curriculum development to providing credentials on mobile devices. Advancements like these will help construction compete with other industries in recruiting the next generation.
Although our industry is facing a critical labor shortage and skills gap, we harbor optimism as we continue to provide the highest level of quality training and assessments to our network across education and industry, promote workforce needs and build recruitment opportunities. I am grateful for the opportunities that 2017 provided and enthusiastic about the innovative developments happening in 2018.
Sincerely,

Donald E. Whyte
President/CEO
FROM THE CHAIRMAN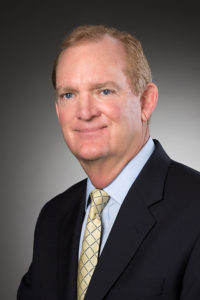 As the 2017 NCCER Chairman of the Board of Trustees, I have had the opportunity to connect with many industry business leaders and discuss the future of construction and the obstacles we face. Overwhelmingly, the shortage of craft professionals is the principal impediment to their business plans.
With unemployment reaching historic lows and "Boomers" retiring, companies can no longer support productivity gains by merely adding workers. This, along with the recent tax reform, should facilitate an increase of business investment in quality training and development programs — a requirement if we are to see productivity gains and tackle the proposed U.S. infrastructure plans.
Through its continued development of exceptional training materials, assessments and credentials, NCCER is prepared to assist stakeholders in rising to the challenges of recruiting new talent into our industry and closing the skills gap. Due to the renewed interest in high school career and technical education, pre-apprenticeship programs and internships, along with support from NCCER's Build Your Future initiative, the paradigm of college being the only path to success is finally shifting. The construction industry must be prepared to reach out to these young people and show the multitude of career paths available in our industry.
It has been an honour to serve as the 2017 Chairman, and the professional relationships I have built with the NCCER trustees and staff over the years are immensely gratifying. I look forward to continuing my support of NCCER programs in the future.
Sincerely,

Chip Reid
Immediate Past Chairman